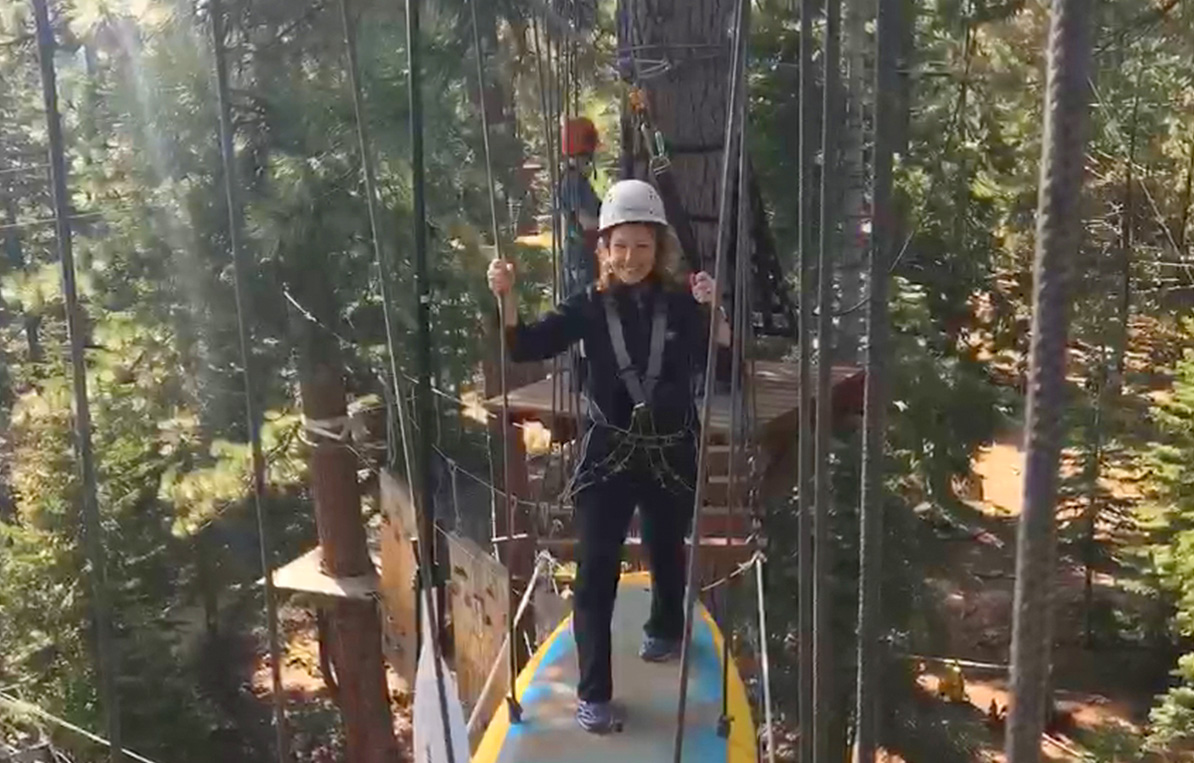 There's no doubt the allure of living and playing in the Lake Tahoe area lies in knowing you and your family will be spending plenty of time outdoors. Winter, summer, spring or fall, there's always something to do and always a reason to get outside and be active. But it's not just summers on the lake or winter weekends in lift lines. As Tahoe local Jeremy Peterson learned at Tahoe Tree Top Adventures, even something as unique as swinging through a ropes course or flying down a zip line can make for a unique family day in Tahoe.
CS: WHAT WAS SO EXCITING ABOUT THIS PARTICULAR ACTIVITY?
JP: It was something we could do as a family and something we've never done or even seen before — a very unique experience the kids could tell their friends about.

Everyone was nervous. My youngest is a little afraid of heights, so I was worried he wouldn't enjoy it or even do it, but he hopped right up there and never looked back.
WHAT WERE YOU MOST LOOKING FORWARD TO?
I was most excited about the zip lines but I also wasn't sure what to expect. And even that definitely exceeded my expectations.

WHAT WAS IT LIKE BEING INTRODUCED TO THE WHOLE ACTIVITY WHEN YOU GOT THERE? ANY SPECIAL INSTRUCTION OR GUIDANCE?
They did a great job explaining what to do and how to do it. And they took safety very serious at Tahoe Tree Top Adventures, which makes you feel safer from the get-go.
SO AS A PARENT, WHAT WAS YOUR FAVORITE PART OF THE EXPERIENCE?

My favorite part of the experience was having the whole family able to do something together and have so much fun. The smiles on everyone's faces totally made it worthwhile. And as an adult, the views were amazing. I was a little worried it would be "kiddish" but they had something for all ages that made the grown- up experience very exhilarating!
AND WHAT WAS THE FAVORITE PART OF IT ALL FOR THE KIDS?

They loved the zip lines and just getting to run from course to course.
IF YOU DID IT AGAIN, WHAT WOULD YOU DO DIFFERENTLY?

For starters, my wife is going up there for a ladies' trip again this weekend. For me, I'll probably make sure to buy the gloves next time. We all made it through without them but it would have been a little nicer to have them for comfort.