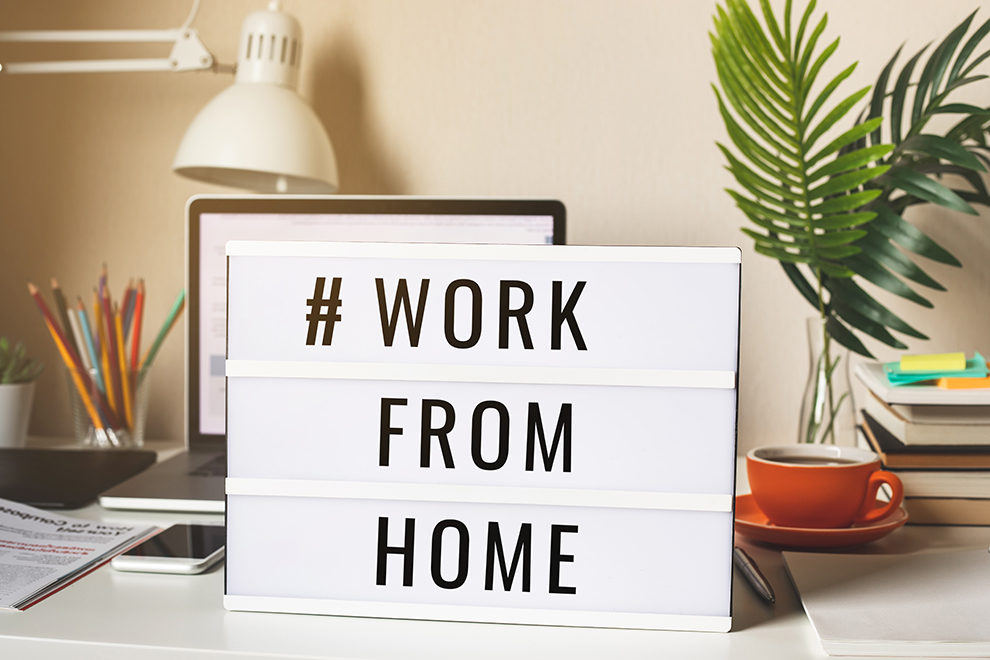 This new trend of working-from-home may be more fantasy than reality for some, especially those who envision working in their pajamas, ditching the long daily commute, sleeping in just a little bit longer, and finally getting to do that exercise routine they have been meaning to start. However, working remotely can be a double-edged sword. Staying productive with all the distractions of home, such as entertaining your kids, cleaning the house, visits from friends, and watching the latest episode of your favorite show, can ultimately be much more challenging and require more focused effort on your part. Here are some tips on how you can effectively work from home while taking care of your physical and mental well-being.
Get Dressed/Make Your Bed:
Start off your day by getting fully dressed and making your bed, which may seem like small accomplishments, but it will give you a sense of pride, and it will encourage you to do task after task. As Admiral William H. McRaven said to the graduating class of University of Texas, "By the end of the day, that one task completed will have turned into many tasks completed. Making your bed will also reinforce the fact that little things in life matter. And if by chance you have a miserable day, you can walk into your room to a bed that is made – that you made – and a made bed gives you encouragement that tomorrow will be better."
Transition Into/Out of Work:
Don't allow your work time to creep into your personal time in the morning. Use your normal commute time as personal time, by eating breakfast with your family, reading a book or exercising. Exercise is an important part of making the transition from the office job to working at home and will help you to establish a healthy work-life boundary. You will also find yourself much more clear-headed and motivated to work. The same goes for lunch time. Stop working and take a lunch break just like you would if you were still working in an office. Finally, give yourself something that will also signal the end of the workday. Perhaps, setting an alarm with funky, uplifting music to get you out of your chair, dance the stress off, and remind you to put your work aside.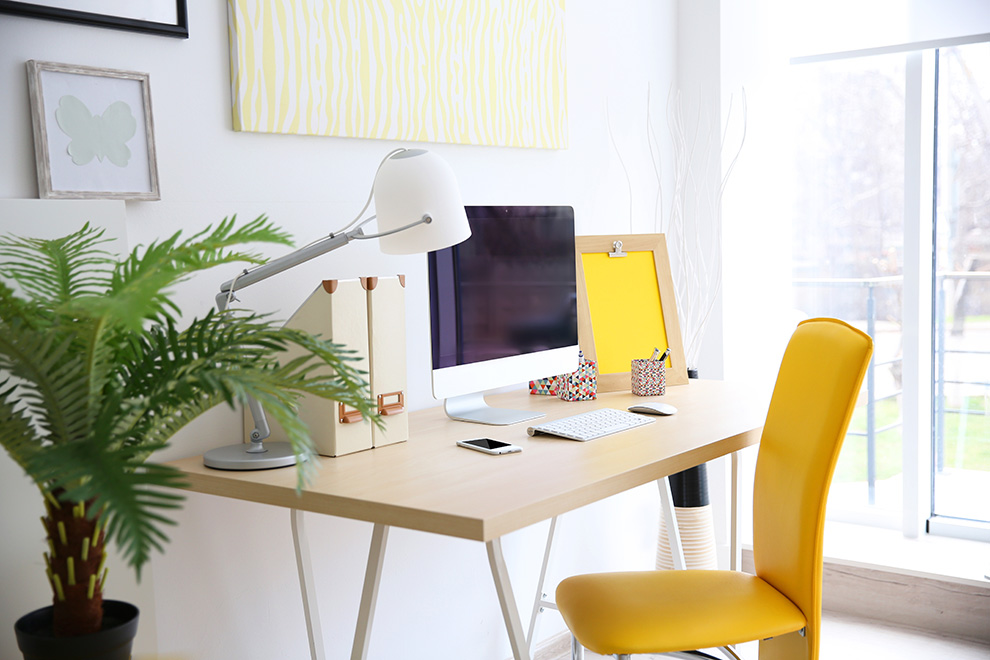 Designate a Work-Space/Limit Distractions:
Try and find a dedicated and comfortable spot to work that you can associate with your job and leave when you're off the clock. Definitely leave your bedroom, and stay off of the couch, as spaces that are associated with leisure are counterproductive and provide more distractions. Be sure to turn off any notifications that may take your attention away from the tasks at hand.
Having the proper tools at your fingertips will also ensure you work more efficiently. These can include a reliable computer, printer, quality internet connection, an organized filing system, general office supplies, and ergonomic and comfortable office furniture and chair. Some additional items that also are handy are a headset or ear phones so you don't distract others with your calls, a white noise machine to cancel out background distractions, or even a selection of fun virtual backgrounds for those regular group calls.
Keep Clearly Defined Work Hours:
Set up regular work hours to keep you focused and on-task, to avoid distractions and procrastination. Once you have your schedule, stick to it. Arrive on time and leave at the end of the workday. Make sure you tell your family and friends what your new schedule is and keep personal business to the side until the end of the workday.
Set Boundaries and Expectations:
Sticking to a 9-to-5 schedule may prove unrealistic for many. Employees need to find the schedule that works best for them, and also be respectful that others might work at different times than they do. Many people will find that the only time they can manage to really concentrate is when their kids are sleeping or napping. For others, it might be first thing in the morning when there are less distractions, or late at night after dinner time. Some employees can create intentional work time slots by adding an "out of office" reply during certain hours of the day to focus on work deadlines. It is okay to relay to your colleagues that you might be slower than usual in responding, decreasing response expectations from others and relieving yourself of unnecessary stress.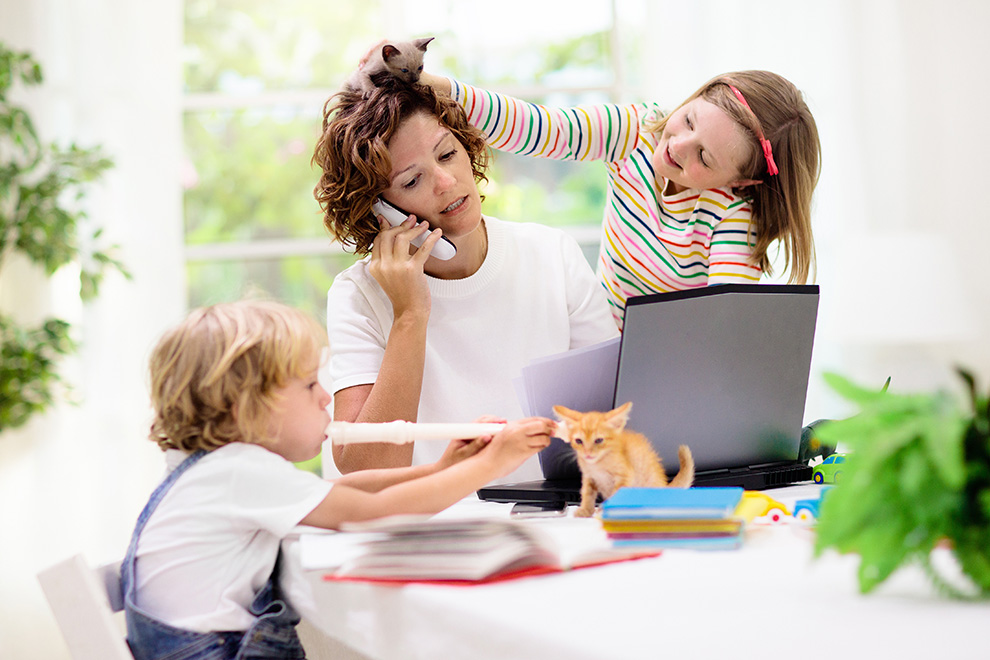 Create a To-Do List:
A simple to-do list can do wonders for keeping you both organized, motivated, and productive as you work from home. As you create your list, think about big, long-term goals, like finishing a project, as well as small goals, like completing tasks that lead to that big goal. Checking off those smaller goals lets you know you're making progress, which gives you positive reinforcement throughout your day. Your workload will feel much more doable when it's not all one giant task.
Take Scheduled Breaks:
When you're planning your day, be sure you schedule in work breaks. It has been shown that employees, even at home, who take breasks every 90 minutes report a higher level of focus and productivity. Scheduling multiple breaks throughout the day, either to take a long walk around the neighborhood, fit in some jumping jacks or burpess, or even taking your dog for a walk can do wonders for your overall health and energy levels.
Hire a Dog-Walker/Pet Sitter:
You are working from home so it seems silly to hire someone to do these tasks when you should be doing it yourself. However, having someone occasionally visit your home to help feed and care for your furry friends, or take them out for a walk not only ensures they get fresh air and exercise, but that you have some quiet time to complete tasks or important calls free of background barks.
Adjustment Period:
Making the transition from an office-type setting to a home office setup can take some getting used to and may take longer from some. It is okay at times for you to feel lonely, isolated, anxious, stressed, frustrated, or even unmotivated. Remind yourself that these feelings are completely normal and allow yourself time to get into a groove. Some periods of adjustment are longer than others, which is why it is even more important to follow the suggestions above to make this transition as smooth as possible.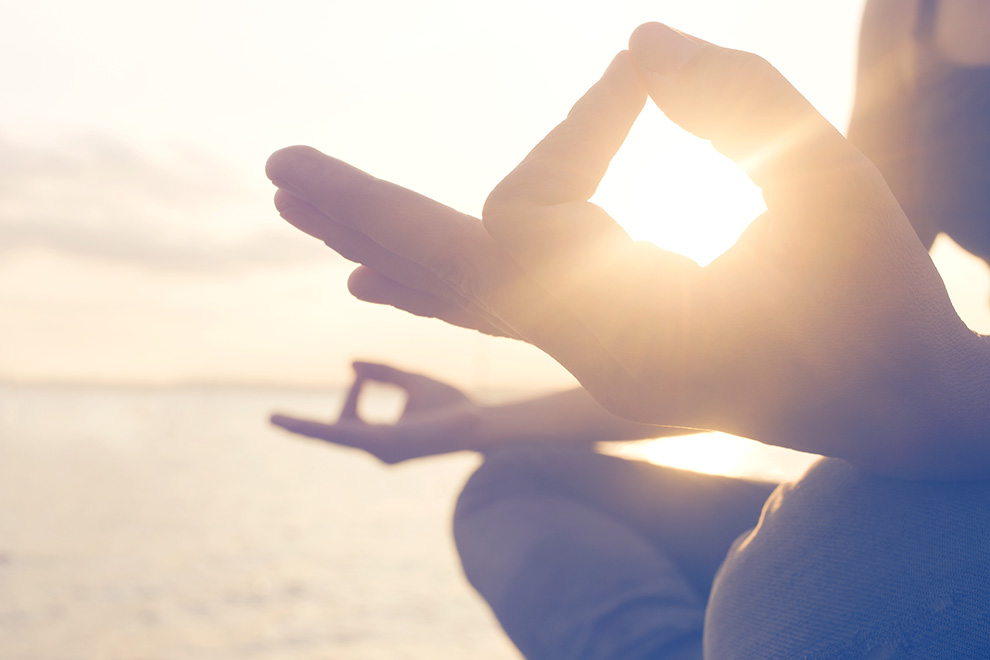 Featured Floorplan: Cirrus The Ideal Work-From-Home Space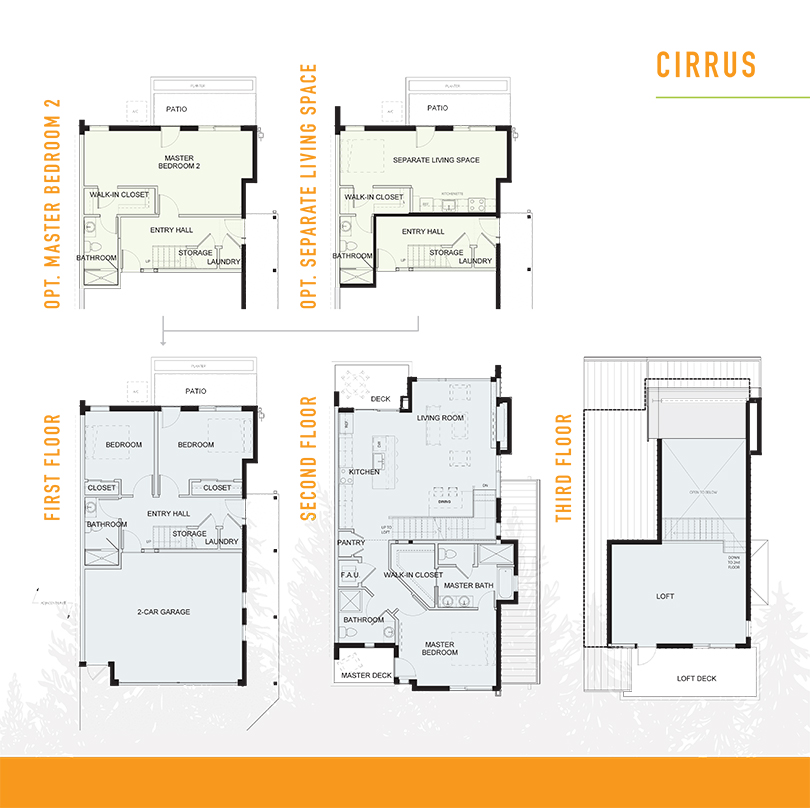 Picture this…you are sitting in your home office, the smell of freshly brewed, local coffee wafting from your mug, the sun is peeking above the mountains, and a cool breeze drifts through your open window overlooking the swaying treetops. Can you imagine a more inspiring and peaceful setting for your new home office?
Our Cirrus floor plan may be the perfect fit for your new at-home workspace, with its third-floor loft that offers vaulted ceilings, generous windows that brings the outdoors inside, and an inviting balcony to take in the scenery on your regularly scheduled breaks. Enjoy the convenience of having the latest high-speed internet service in your home, allowing you faster access to information and efficient and timely communication.
We are currently accepting lot reservations on three of our rare, creek-facing lots that can accommodate our largest and most generous floor plan. Contact our sales office today to learn more about what this plan offers, and how soon you can get your new office up and running!