Public transit is a foundational piece of infrastructure in any community. Regardless of the transit system's size and the size of the city or county it serves, everything from the local economy to travel-related carbon emissions are profoundly impacted with the availability of public transportation.
According to the American Pubic Transportation Association, more than 50,000 jobs are created with every $1 billion invested in transit, and this isn't a figure that only applies to a place like New York City, who thrives on a massive ecosystem of buses and subways. Smaller towns like Truckee have access to transit systems with their specific community's needs in mind, which is exactly what the Tahoe Truckee Area Regional Transit (TART) has created in the North Lake Tahoe Region. Reduced traffic congestion, reduced air pollution, financial benefits to the community, opportunities for individuals to save money by using public transportation, and even safer transportation are the universal benefits of public transit.
But what are the specialized services offered by TART that are custom-built for Truckee residents? First, TART services are free. As part of TART's longterm system plan that extends through 2025, the transit program eliminated fares along with increasing service hours and frequency to serve their expected annual ridership of just under 51,000 people. The area has various lines that run on various schedules, starting as early as 6 am at some stops and ending service as late as 2 am. From there, getting from Point A to Point B is simply a matter of entering your destination on the TART website and preferred arrival time.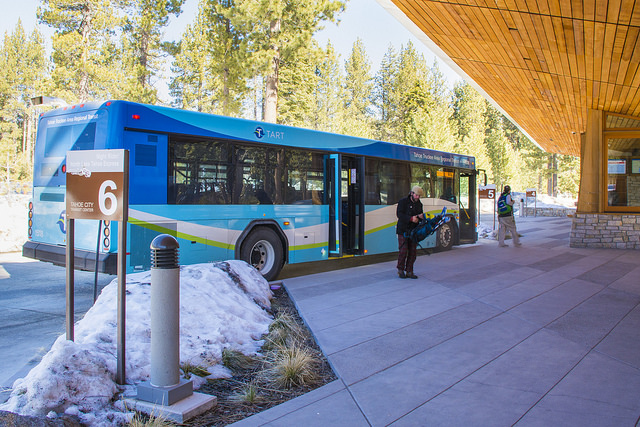 Getting to and from Tahoe's ski resorts
TART is a functional service for everyday life to some, getting to and from work, doctor's appointments, or just commuting around the Truckee area in a convenient way that only requires planning but no money. But TART routes are also intentionally designed to get people to many of the area's ski resorts.
Considering the Tahoe Basin and its associated ski resorts cover such a large area, whereas other ski town destinations are typically more condensed, this is actually a unique and useful asset to local skiers. We've all paid exorbitant sums to park at resorts and sat in the gridlock that leads straight in and out of their lots. It's not fun. Of course, these things happen in any ski town, but add the longer commutes around the area and a day on the hill can quickly become a quest.
For obvious reasons, TART's free services can alleviate many of those stresses. During the winter months, the Winter Park and Ride program provides TART's free bus service every 30-minutes during peak morning and evening periods from 7 a.m. to 6 p.m. on weekends between Truckee park and ride locations to Squaw Valley along the state Route 89 corridor and Northstar along the state Route 267 corridor. This means you can easily leave your car at the appropriate designated point for the day for the day, jump on the bus, and get in and out of resorts for free and without the hassle of parking amidst the masses.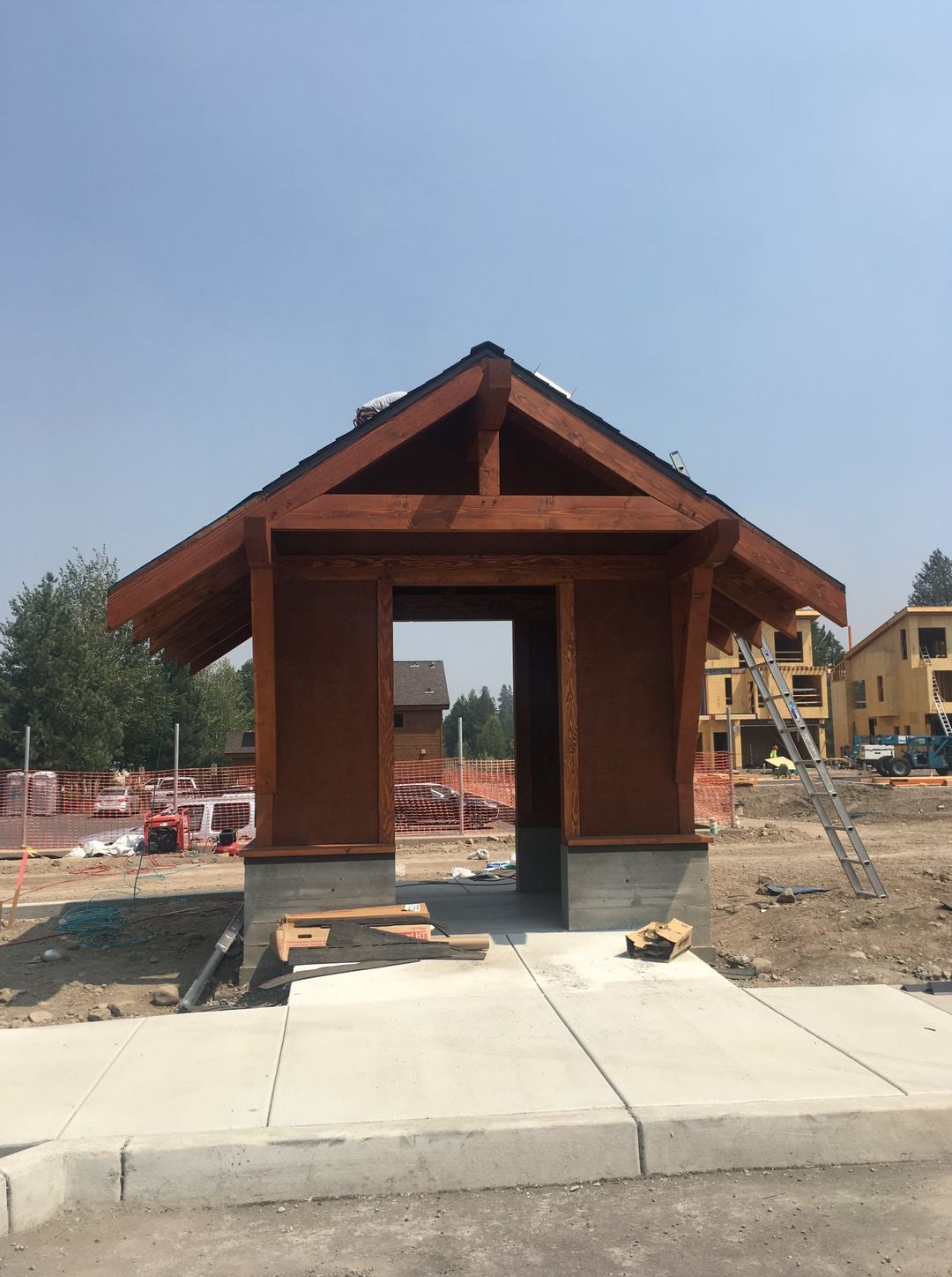 Shuttles
Some resorts also offer dedicated shuttle services for this same purpose. Squaw/Alpine's Mountaineer operates from 7am to 10pm daily for its Squaw shuttles and 8am to 5pm on weekends at Alpine. The unique shuttle service can be summoned via its mobile app by "any in-valley rider," and a dog-friendly 4×4 that seats up to 10 and is equipped with ski and snowboard racks taxis riders to and from the resorts.
There are also other specialized shuttle services like the North Lake Tahoe Express, which operates like your traditional shuttle service that requires reservations for scheduled rides from Reno-Tahoe International Airport and the North Lake Tahoe-Truckee region, connecting to local transit stops.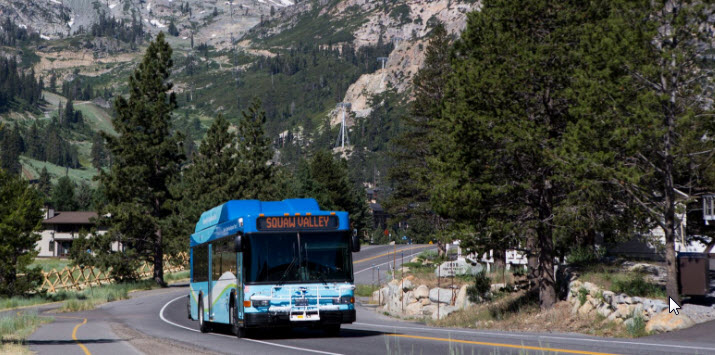 Ride share services
If mass transit isn't an option you're willing to consider, there's always the growing popularity of ride share services like Uber and Lyft to rely on. They are cheaper than a taxi and most likely cheaper than parking (depending on how far your ride is), and while they will cost more than a free TART fare, there is no logistically planning needed other than plotting your destination on a mobile app. As far as convenient and easy access is considered, ride shares top all other options.
Where to keep your belongings
Every resort will have a daily locker service available. Consider the daily locker cost of about $7 for a small locker to just over $10 for a larger locker per day, and you've fully escaped the burden of a car on ski days.